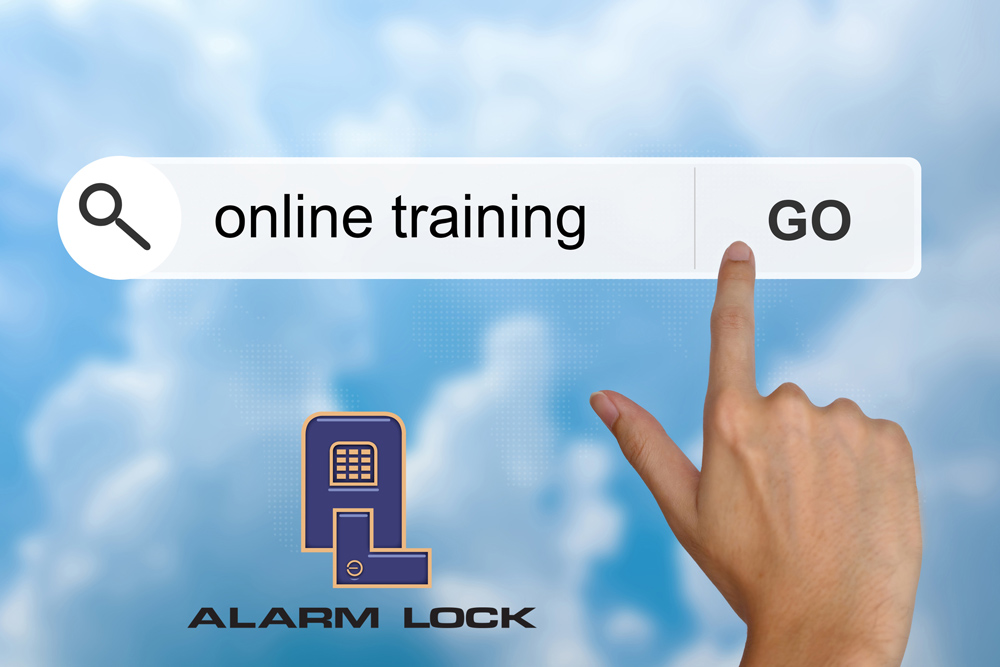 Alarm Lock & Marks USA training classes are available online and locally in the field, nationwide.
Alarm Lock & Marks USA have teamed up to give you the best in access control & door control solutions - Now, get training for you and your staff on using the latest new technology, installation & programming techniques, growth in new markets and even earn factory-certification on Alarm Lock and Marks USA products. Alarm Lock classes cover class-leading Trilogy Standalone Locks, Wireless Networked Networx Locks, Gateways and PIN/Prox-Automated Exit Trim; while Marks classes include Hi-Security Keys, Cylinders & Key Administration, Healthcare Locking Applications, School LocDown Security and 'Ins and Outs' of Exit Door Hardware.
Online Virtual Training Webinars
can be taken right from your computer: No gas or travel required, and optionally, continuing ed. credits, without ever leaving your office. They are presented live, and each is followed by a Question & Answer Session.
Field Training Classes
are hands-on and taught with real-world applications and locking expertise. Some are presented at Alarm Lock & Marks Distributor branch locations or in local offices. Many include PC-programming software (check for supplies needed).
Previously-Recorded Webinars & Training Videos
are available when you are, ideal as a refresher too, round-the-clock 24/7. (click below)
| | | | | | | | |
| --- | --- | --- | --- | --- | --- | --- | --- |
| Date | Course Title | Time | Location | Instructor | Price | Register By | Register |
| 12/5/2023 | Alarm Lock Networx training ON-SITE | 8 am ET | Hampton Inn, 161 Douglas Avenue, Altamonte Spings, FL | Andy Phelps CRL, CAI | Free | 11/29/2023 | Register |
| 12/5/2023 | Alarm Lock Air Access Cellular Access Control ON-SITE | 1 pm Eastern Time | Hampton Inn, 161 Douglas Avenue, Altamonte Spings, FL | Andy Phelps CRL, CAI | Free | 11/29/2023 | Register |
| 12/6/2023 | Alarm Lock Air Access Cellular Access Control ON-SITE | 1 pm Eastern Time | Hilton Garden Inn, 1700 East 9th Ave, Tampa, FL | Andy Phelps CRL, CAI | Free | 11/30/2023 | Register |
| 12/6/2023 | Alarm Lock Networx training ON-SITE | 8 am ET | Hilton Garden Inn, 1700 East 9th Ave, Tampa, FL | Andy Phelps CRL, CAI | Free | 11/30/2023 | Register |
Previous
|
1
|
Next